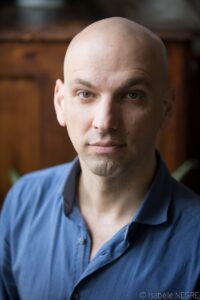 Born in Genova, Italy, in 1973, I pursued a Degree in Agricultural Engineering for Tropical Countries before embarking on a career in rural development and humanitarian aid in various countries, including Brazil, Ecuador, Colombia, Cuba, and Morocco.
Alongside my work, I taught myself computer science and collaborated with FAO, the UN agency, as a web mapping systems programmer.
In 2010, I directed the FOSS4G and completed acupuncture studies in Barcelona.
From 2011 to 2016, I traveled extensively and worked as a therapist in Six Senses resorts. Also developing and maintaining the popular acupuncture website "Apuntes de Acupuntura".
In 2022, I had the opportunity to delve into parallel programming and generating Web interfaces to HPCs at the Josep Carreras Leukaemia Research Institute.
Currently, I am focused on efficiency and scalability using HPCs, Geo-spatial software and web interfaces.